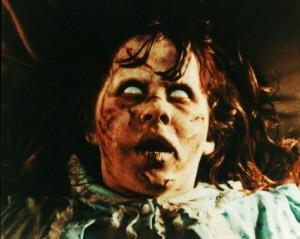 Tonight, I kicked back and watched an ABC Nightline episode called Beyond Belief: Battle With the Devil. Sadly, as expected, I was less than amazed by it.
It took things from the standard wacky Christian playbook that's been around as long as I can remember (at least since the 80s), didn't include any good interviews with non-Christians (be they atheists or pagans or any other religion), focused on some of the most outlandish practices out there, and interviewed some people who were far from what one could call "grounded in reality".
There is no shortage of people who believe that "the devil" is all around us, trying at every opportunity to make us do bad things. Every ill of the world is tossed into a heap on Satan's doorstep… and with it, far too often, all ties to personal responsibility for the actions of the individual. This "news" show was full of those people, just like most shows I've ever seen on the subject.
Where I Stand
Just to be perfectly clear: Yes, I do believe Evil exists. I do think there are things out there that can get inside of us and make us do things and I do think they can be cast out.
However, I also believe that most cases of possession you'll ever see or hear about are either fake or a misdiagnosed (or undiagnosed) psychological problem. Others are psycho-somatic reactions generated by deeply held beliefs of the "possessed"–a kind of dissociative state where everything they think is "bad" about themselves is given its own personality.
Very, very few ever involve any actual non-physical entities.
Also, Christians don't hold the monopoly on evil spirits or the ability to cast them out. Anyone can draw them in or send them away. It's just a matter of faith–not in any religion, but in oneself.
See, evil spirits only have as much power over us as we're willing to give them.
Faith and Power
Demons and their ilk may be most famous from the tales of terror common told in a lot of churches (and from movies like The Exorcist), but the mythology and cosmology of every religion I've come across has it's own share of dark spirits and shady characters. Many are trickster gods, some are outright hostile toward humans, but all of them, in every story, can be beaten one way of another. Even The Devil himself has lost at everything from fiddle playing to cards.
More often than not, they're beaten because they underestimate the humans they're playing with.
See, here's the thing, we are composite beings, a mix of the physical and spiritual. That gives us some special benefits. One part of our nature can be used to strengthen the other. Our minds can be quick, our spirit strong, our bodies pushed beyond normal limits. All because we believe we can do better, we can be better.
And when one part of our nature fails us, there's the other to fall back on.
That mixed nature gives us power that a more "pure" creature can't lay claim to. (Perhaps that's one of the reasons we're always so in demand.)
Religious faith, without a doubt, gives us a framework from which to access that power… but it's not the only way to do so. Knowledge, in general, is power. As is basic self-respect.
Possession and Exorcism
There are many ways we can let evil spirits into our lives. Thing is, most people will never encounter an evil spirit unless they go looking for one (or are extremely unlucky).
More often than not, we'll generate our own negative constructs by doing things we're ashamed of or that we know are wrong for us. Those negative constructs, depending on our personal beliefs, can take many forms. For those with a heavy Christian-flavored religious (or horror pop-culture) background, it makes sense that demons would be common.
These negative constructs can be dealt with in a number of ways.
Exorcism works because it fits in with the framework that created the "demon" to begin with.
Honest self-evaluation and dealing with the behavior or thought process that's causing the problem can work, too, if you're willing to accept responsibility for your thoughts and actions.
And, because it's a construct of your own mind, plain old therapy could work, too.
In other words, there's more than one way to get "possessed" and there's more than one way to "exorcise the demons."
The Bigger Picture
What far too many documentaries and "news" programs fail to realize is that the problem of evil is a very human one.
There don't need to be devils and demons for bad things to happen. We're more than capable of doing all sorts of horrible things all on our own. It's one of the problems with human nature and free will (not to mention how delicate the balance of our neurochemistry can be and the wild ways it can go out of whack).
Another part of the problem is how easily we look to give up responsibility for our actions. No one wants to believe they're evil, so why not ascribe it to some malicious force that has tricked you into letting it take over your body?
The good news–and something that shows like Nightline's Beyond Belief need to start incorporating into their formats–is that we have an equal capacity to create good and heal ourselves of our self-inflicted problems.
We need to be reminded that this is our world. If you're of a religious bent, we were given either dominion of custodianship of it. That gives us a lot more control over things than most care to take responsibility for. If you're non-religious, well, then we're the only ones who can make any changes in how things work.
Demons and devils and other evil spirits are creatures from another realm (not necessarily unnatural, but not native denizens to the physical). They are at a disadvantage here, which is why they prey on the weak.
To defend against them–and any number of other evils in the world–be strong. Have faith, first and foremost in yourself. Be educated, in how your mind works, in how the world works, and in what you believe to be.
Instead of just telling us stories of the bad that can happen, these documentaries and reports have to do more than scare people. They have to give them an equal helping of hope.
For as much Darkness as there is in the world, there is at least as much Light.